As waves resonate with the flow of time, Miyajima's flamboyant night will fill our hearts with wonder and joy.
Bits of knowledge about the Fireworks on Miyajima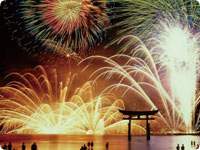 Miyajima-on-the-sea-Fireworks Display presents seven spectacular scenes, complying with each year's theme.
The fireworks display is set up to match the image for each scene, which is centered on the fascinating pyrotechnics on the water.
Over 300,000 visitors enjoy the fireworks show every year. The scene with the O-torii Gate silhouetted by the illumination of the fireworks attracts thousands of photo enthusiasts.
Miyajima Water Fireworks Festival is one of the most famous fireworks display in Japan.
Date
August 11, 2016 (Thu)
19:40 - 20:40
Location
off shore from the O-torii Gate
Information
Miyajima Tourist Association
TEL : 0829-44-2011