It takes about 10 minutes by ferry to travel from Miyajimaguchi pier to the world cultural heritage site of Miyajima.
Two ferry companies operate between Miyajimaguchi and Miyajima island; the JR ferry and the Miyajima Matsudai Kisen.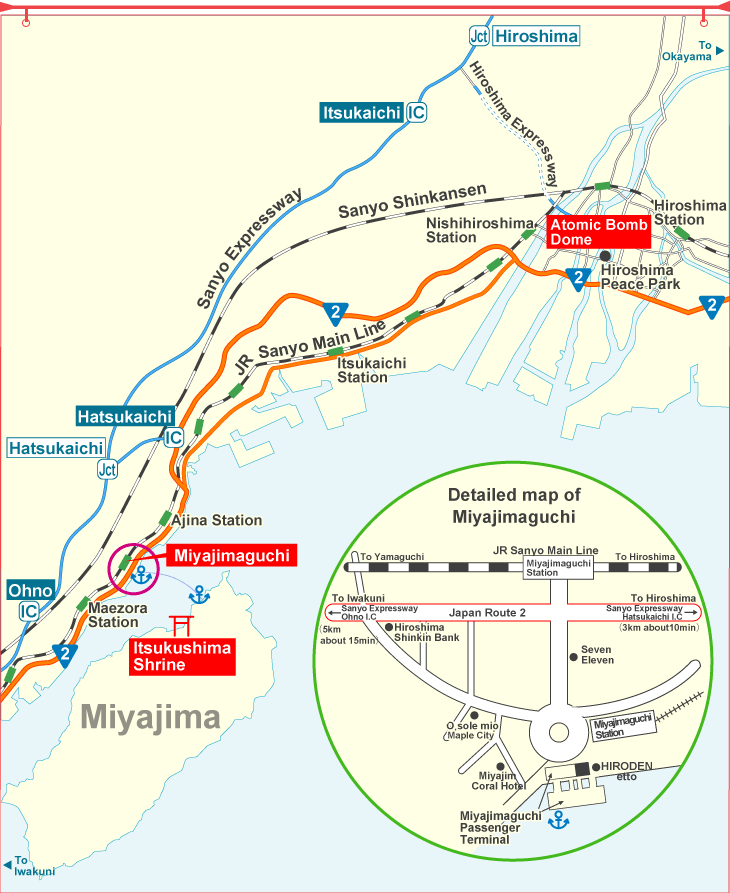 click to expand. >>


* About 3 km (10 min.) from Ohno IC and Hatsukaichi IC via Route 2


Since the old cityscape is preserved in Miyajima, roads are small and there are many alleys. Please pay attention to the following things when driving.
The whole city area is a 20km-an-hour zone. Uguisu promenade and roads to Suginoura and Tsutsumigaura have a 30km-an-hour speed limit.
Vehicles are prohibited in the shopping district from 10:00 to 17:30.
Crosses and T-junctions are signed. Please watch for these signposts when driving.
Parking on the main roads is prohibited.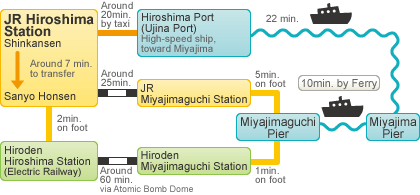 * Because there are only a few high-speed ship services between Hiroshima port and Miyajima, please be sure to check the timetable in advance.

From Hiroshima Airport
Traveling from Hiroshima Station takes 48minutes by shuttle bus. Take the Sanyo line from JR Hiroshima Station to JR Miyajimaguchi.
From Iwakuni Kintaikyo Airport
Take the bus for JR Iwakuni station.(about 10 minutes) Then take the Sanyo line from JR Iwakuni station to JR Miyajimaguchi station.(about 20 minutes)