The world cultural heritage
Itsukushima Shrine consists of bright vermillion buildings on the sea and also it is surrounded by Mt. Misen and a deeply forested hillside. This was born from a great plan which is not unequaled anywhere in the world and creates unique scenes.
The building group of Itsukushima Shrine consisting of 17 buildings including the main sanctuary, the sub sanctuary and the front shrine, and 3 monuments of the Grand Gate, the five-storied pagoda and the treasure tower have become the World Heritage Sites. Six buildings among them are designated as national treasures, and eleven buildings and three monuments are important cultural properties.
Also the buffer zone is "whole Itsukushima Island" and the area of "Sea surface inside of the line between the angles of Nagahama-Konakiri in Miyajima Town and of nord Mt. Suisho of Oaza Ohnishi-cho in Miyajima Town" except the heritage area.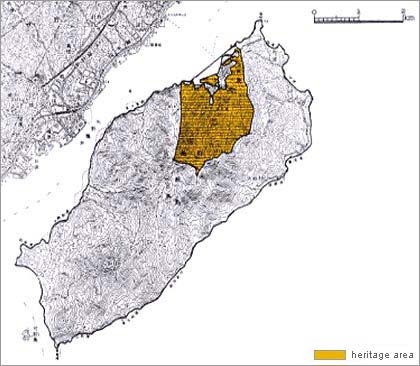 What is World Heritage ?
The World Heritage Convention (convention concerning the protection of the world culture and natural heritage) is a treaty adopted by the UNESCO General Conference in 1972 and ratified by Japan in 1992. The purpose of the convention is to recognize sites of world-class cultural and natural heritage that are mankind's common assets, and to promote cooperation among the countries of the world to protest such assets when they are threatened by damage or loss. To this end, the World Heritage Committee, made up of 21 representative of signatory countries in which they are located. A heritage site judged to have significant universal value is registered on the World Heritage List as an asset shared by humanity. The heritage sites on this World Heritage List are generally referred to as "World Heritage".
To be declared a "World Culture Heritage" site, candidates must satisfy one or more if the following six criteria.
Represent a unique artistic achievement, or a masterpiece of creative genius.
Have exerted great influence over a period of time or within a cultural area of the world on developments in architecture, monumental arts, city-planing, or landscape.
Bear unique or at least exceptional testimony to a civilization which has disappeared.
Be an outstanding example of a building or architectural ensemble style which illustrates a significant era in history.
Be an outstanding example of a traditional human settlement which represents a culture and has become vulnerable under the impact of irreversible change.
Be closely involved with world-famous events, traditions, thoughts, beliefs, arts, or literature.
Value of Itsukushima Shrine as the World Heritage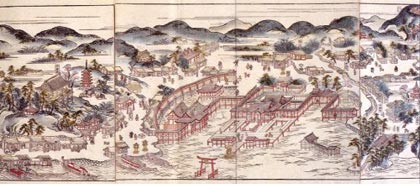 | | |
| --- | --- |
| 1 ) | The marvelous shrine building arrangement of Itsukushima Shrine, which we still enjoy today, was originally designed by Taira no Kiyomori, a powerful figure in 12th century Japan. The architectural layout of these buildings displays the "shinden-zukri" style of the Heian period (794 - 1191), which makes this shrine so outstanding. It is exemplary due to its unique location on the sea water, the way it is beautifully framed by the mountain in the background, and how it manifests Kiyomori's extraordinary conception. Itsukushima Shrine is a representative asset of the Heian period which demonstrates Kiyomori's achievements. |
| | World Heritage Criteria (1) |
| 2 ) | Itsukushima Shrine was designed to worship nature and enshrine mountain gods, following a custom to locate a shrine at the foot of the worshipped mountains. It represents the Japanese traditional architectural style of shrine. The set of structures harmonizes perfectly with their surrounding to create an incomparable artistic masterpiece which has become a benchmark of Japan's aesthetic through the ages. Itsukushima Shrine is a valuable asset for comprehending Japanese spiritual culture. |
| | World Heritage Criteria (2) |
| 3 ) | Itsukushima Shrine is one of the few remaining shrines in Japan that show the original construction. It is also one of the rare structures build in the Kamakura period (1192 - 1333). Despite repeated reconstructions, this shrine is still an extraordinary reflection of the Heian period. This unique architecture manifests the Heian "shinden-zukuri" style of using the border between mountain and sea, which is an important element of the ancient shrine style. |
| | World Heritage Criteria (4) |
| 4 ) | Itsukushima Shrine is based on Shintoism, which is deeply rooted in Japanese culture, and it displays the history of integration and differentiation of Shinto and Buddhism. It offers a fundamental understanding in the special character of Japanese religion which emphasizes the utilizing of space. |
| | World Heritage Criteria (6) |