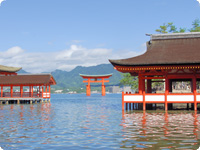 At beginning of Edo era, Shunsai Hayashi, who was a Confucianist walked all over Japan and wrote the book "Nihonkoku Jisekikou". In his book, he mentioned the three prominent sceneries in Japan. These are Miyajima (Shrine Island), Amanohashidate (Heaven Bridge) and Matsushima (Pine Island). They make a beautiful green contrast with ocean. These sites have moved many people's hearts. The sites which are surrounded by the sea is the symbol of Japan. Those sites "three most famous beauty spots in Japan" have written in many literatures. Many people have admired these sites since old days.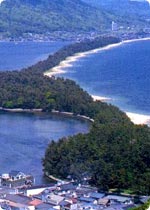 Amanohashidate is located on the Tango Peninsula in the northern part of Kyoto Prefecture. It is a sand-bar, 2.3miles in length and about 566 feet in the maximum said to look like "the Green Bridge to Heaven." It is famous as one of the three most beautiful spots in Japan and is crowded with many tourists all year around.
There are a lot of shrines, temples and other things worth seeing in and around Amanohashidate.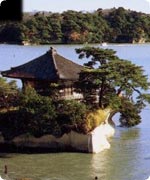 Matsushima is located in Miyagi prefecture. (3 hours from Tokyo) It is consisted of about 260 islands with a lot of pine trees. It is famous as "Pine islands".
There are many worth seeing such as Oshima, Matsushima Aquarium, Tenrinin, Entsuin, Zuiganji, Yotokuin, Kanrantei and Matsushima Museum, Godaido Fukuurajima The Historical wax Museum and so forth.